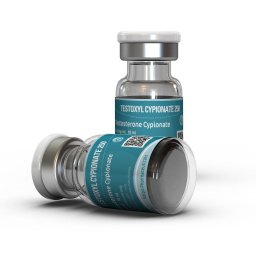 Kalpa Pharmaceuticals
Testoxyl Cypionate 250
Drug Class: Androgen; Anabolic Steroid
Active Ingredient: Testosterone Cypionate
Dosage: 250 mg/mL
Manufacturer: Kalpa Pharmaceuticals
Routes of Administration: By Intramuscular Injection
Price per 1 Vial [10 mL per Vial]
Note: Warming and shaking the vial
should redissolve any crystals
that may have formed
during storage or shipping at a
temperature lower than recommended
Testoxyl Cypionate 250 Detailed
Legit Testoxyl Cypionate 250 Injections
Testoxyl Cypionate 250 - the active substance is testosterone cypionate, an artificial analogue of the male hormone. The peculiarity is a complex molecule that breaks down and is excreted rather slowly. This provides a long-term effect, eliminating the need to inject the drug frequently.
Drug Description
This steroid has a tangible androgenic effect. The results of its intake are a noticeable growth of muscle mass, an improvement in objective sports performance, an increase in strength and endurance.
Experienced bodybuilders advise buying Testoxyl Cypionate 250 for a mass-gaining course, it is this steroid that has high performance without harming health.
Properties and effects:
High efficiency. The course allows you to gain up to 10 kilograms of muscle mass, while significantly increasing the strength and endurance of the athlete.
Long-term action. It is not necessary to inject it often: just once or twice a week is enough. The complex cypionate molecule provides a uniform, prolonged effect.
Benefits for bones and ligaments. It contributes to the retention and assimilation of the elements necessary for the skeleton. Due to this property, recovery from injuries is accelerated, it helps the joints to easily and painlessly endure significant loads.
Saving. The price of Testoxyl Cypionate 250 from Kalpa Pharmaceuticals is affordable for everyone.
Positive effects:
Appetite improvement.
Uplifting the mood.
Increased desire to exercise.
Strengthening the joints.
Inhibition of catabolic processes.
Increasing sexual activity.
Results: a growth of up to 10 kg of weight, an increase in strength and endurance.
Dosage and Usage
Do not take this anabolic for more than two months. The weekly dosage is 250-600 mg. This amount is recommended to be divided into 1–2 doses. It is best to combine the drug with Deca Durabolin at a dosage of 200 mg / week.
Possible Side Effects
Anyone who uses testosterone esters as anabolics should remember that they are subject to aromatization. Part of the active substance is converted into a female hormone, which leads to unpleasant side effects. How to prevent this? It is necessary to take the steroid exactly according to the instructions. If necessary, include aromatase inhibitors in the course.
A significant drawback is pronounced kickbacks. Weight loss can be up to 30%. Don't worry, this has nothing to do with muscle mass. Cypionate ester retain water, which leaves at the end of the course.
May cause gynecomastia, acne, deterioration of the skin, aggression, baldness, swelling, increased blood pressure. The main part of the side effects can only be provoked by thoughtless use of the drug. If you use it according to the instructions, the risk of encountering unpleasant side effects is minimal.
Testoxyl Cypionate 250 Lab Test Results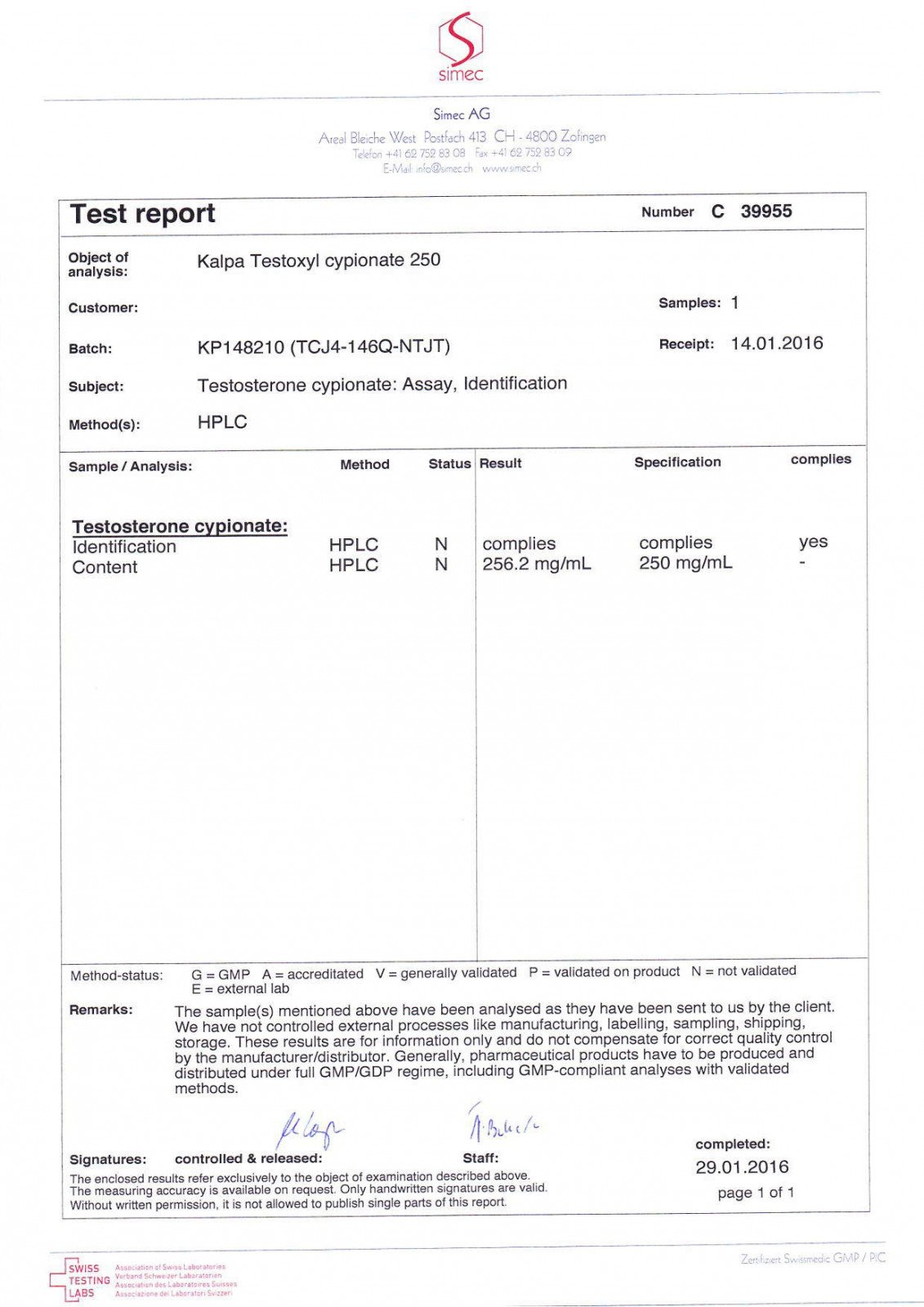 Further Reading
Testoxyl Cypionate 250 Reviews
Please log in to write Testoxyl Cypionate 250 review.