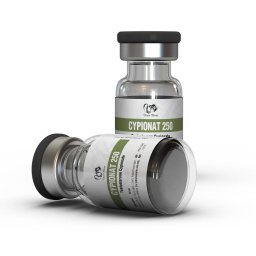 Dragon Pharma
Cypionat 250
Drug Class: Androgen; Anabolic Steroid
Active Ingredient: Testosterone Cypionate
Dosage: 250 mg/mL
Manufacturer: Dragon Pharma
Routes of Administration: By Intramuscular Injection
Price per 1 Vial [10 mL per Vial]
Note: Warming and shaking the vial
should redissolve any crystals
that may have formed
during storage or shipping at a
temperature lower than recommended
Cypionat 250 Detailed
Legit Cypionat 250 Injections
Cypionat 250 from Dragon Pharma is one of the most popular anabolics today. It has many advantages, among which are not only efficiency, a significant increase in strength and endurance, a noticeable increase in mass, but also a long action. The long form of ester allows you to make an injection and not remember injections for a whole week.
Drug Description
The product is relatively safe and suitable even for beginners. Decent quality of goods from Dragon Pharma guarantees an easy and comfortable course with minimal risk of side effects.
Attention! Decided to buy Cypionat 250? Contact only a trusted store. A cheap drug from under the counter can easily be a fake.
Properties and effects
High efficiency. It will help not only increase the mass, but also significantly increase the strength indicators in conjunction with Sustanon.
Long-term activity. Dragon Pharma's Cypionat 250 shows a uniform effect throughout the week, which eliminates the need for frequent injections.
Excellent quality. The mild oil is easy and painless to inject without causing irritation.
Increase in general tone. The drug improves appetite and adds energy. During the course, the mood rises, and the desire to train increases. Potency increases.
Saving. The price only seems high at first. In fact, a couple of packages are enough for a two-month intake. Calculate how much it is cheaper than other drugs with similar properties.
Effects and results:
Improved appetite;
Stimulation of protein synthesis;
Acceleration of metabolism;
Water retention;
Active assimilation of trace elements;
Increased sexual activity;
Improvement of oxygen exchange;
Suppression of catabolism processes;
Significant increase in muscle mass;
Increasing strength and endurance.
Dosage and Usage
In order for the reception to be as effective as possible, it is not advised to stretch it for more than two months. The dosage may vary. Beginners should start with 250 mg per week; for experienced athletes, the dose can reach up to 600 mg. You can limit yourself to one injection per week, or split the dose into two doses.
Possible Side Effects
The use of Cypionat 250 according to the instructions is the key to an easy and calm course without consequences. Most often, side effects are the result of misuse or abuse. Regular overdose can cause acne, baldness, gynecomastia, increased hair growth on the body and face.
Although the "test" boasts high anabolic efficiency, we should not forget about some of its shortcomings. Perhaps the most notable of these is water retention. It manifests itself not only in sweating and high blood pressure, but also in kickbacks up to 30%. The fact is that at the end of the course, all excess water leaves - only the actually gained mass remains.
Another disadvantage is susceptibility to aromatase. This enzyme converts male hormones into female ones. And because at the time of taking the concentration of the hormone increases greatly, then estrogen can subsequently go off scale. How to avoid it? Undergo therapy with Arimidex.
Cypionat 250 Lab Test Results
Further Reading
Please log in to write Cypionat 250 review.