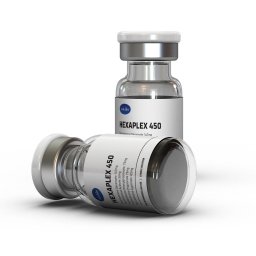 Axiolabs
Hexaplex 450
Drug Class: Injectable Anabolic Androgenic Steroid
Active Ingredients:
- Testosterone Acetate 30 mg/ml
- Testosterone Propionate 73 mg/ml
- Testosterone Phenylpropionate 73 mg/ml
- Testosterone Cypionate 125 mg/ml
- Testosterone Decanoate 147 mg/ml
Dosage: 450 mg/ml
Manufacturer: Axiolabs
Routes of Administration: By Intramuscular Injection
Price per 1 Vial [10 mL per Vial]
Hexaplex 450 Detailed
Legit Hexaplex 450 Injections
Hexaplex 450 from the Axiolabs manufacturer is popular among athletes involved in heavy sports. It makes it possible to quickly achieve results and significantly improve strength performance.
The composition of the steroid includes a mixture of testosterones (acetate, phenylpropionate, cypionate, decanoate, propionate). After taking the steroid, it instantly begins to act, accelerating the growth of muscle mass and increasing endurance. Increasing the dose does not affect the final result, therefore, to minimize possible adverse reactions, the drug can be taken in minimal dosages. Hexaplex 450 has a pronounced androgenic effect on the body with a low level of aromatization and does not accumulate water, which makes it possible to obtain a good weight gain with minimal muscle loss.
Drug Description
You can buy Hexaplex 450 in the USA at a bargain price, as well as pick up other drugs for a steroid cycle.
Among the positive effects of the steroid, athletes note:
Strengthening of bone tissue.
Muscle elasticity.
Weight gain.
Burning subcutaneous fat.
Increased libido.
Improvement of power qualities.
Minimum muscle loss after the cycle.
Rapid recovery of the body after training.
Enhances the body's resistance to stress and depression.
Starts the regeneration of damaged tissues.
For the best result, athletes prefer to combine Hexaplex 450 on the cycle with other drugs.
Dosage and Usage
The first results of the effects of Hexaplex 450 on the body will be visible after a day of admission. Due to the fact that the drug contains decanoate, the active effect of the steroid will continue for four weeks after the end of the cycle. The steroid shows good results even in athletes with extensive experience taking AAS at the lowest dose.
It is recommended to take Hexaplex 450 once a week in the form of injections at a dose of 450-900 mg. In rare cases, athletes increase the dosage to 1000 mg. The cycle lasts two weeks. In the second week of taking the steroid, an aromatase inhibitor is introduced, which lowers the production of estradiol and reduces the risk of side effects.
The steroid is well combined with such drugs:
The maximum cycle of Hexaplex 450 lasts no more than ten weeks. PCT is mandatory. For this, Tamoxifen is used, which stabilizes the hormonal background. Hexaplex 450 is contraindicated for women, otherwise athletes may experience uncontrolled growth of body hair, coarsening of the voice, and the figure will begin to acquire masculine facial features.
Possible Side Effects
If you take the drug correctly, then adverse reactions are extremely rare. However, if the athlete has an individual intolerance, then allergic reactions may occur. At higher doses, nausea, dizziness, gynecomastia may occur. In this case, the dosage is reduced or Hexaplex 450 is stopped. Gonadotropin is administered to prevent adverse reactions to the cycle.
Further Reading
Please log in to write Hexaplex 450 review.