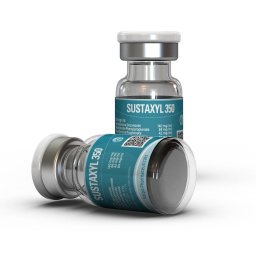 Kalpa Pharmaceuticals
Sustaxyl 350
Drug Class: Androgen; Anabolic Steroid
Active Ingredients:
- Testosterone Propionate 42 mg/ml
- Testosterone Phenylpropionate 84 mg/ml
- Testosterone Isocaproate 84 mg/ml
- Testosterone Decanoate 140 mg/ml
Dosage: 350 mg/ml
Manufacturer: Kalpa Pharmaceuticals
Routes of Administration: By Intramuscular Injection
Price per 1 Vial [10 mL per Vial]
Sustaxyl 350 Detailed
Legit Sustaxyl 350 Injections
Sustaxyl 350 is a powerful steroid drug from the well-known manufacturer Kalpa Pharmaceuticals. The composition includes a mix of testosterone esters: propionate 42 mg, phenylpropionate 84 mg, isocaproate 84 mg, decanoate 140 mg.
This combination is able to maintain a normal hormonal background for a long time.
It has been specially formulated for athletes for instant and long-lasting effects in the body. The steroid is taken during mass-gaining cycles, to increase strength and endurance. The drug tends to accumulate water in the body, so this mix is not suitable for "drying" and preparing for bodybuilding competitions. Available in the form of injections.
Drug Description
Sustaxyl 350 has a high anabolic and androgenic activity. Due to the combination of four testosterone esters, the drug is quickly included in the work and maintains a high level of testosterone throughout the cycle. The steroid stimulates protein synthesis in cells, which promotes muscle growth and bone strengthening.
This testosterone product can be purchased in the USA. To do this, just use our online resource and place an order. Sustaxyl 350 is actively used in bodybuilding, powerlifting and other sports.
During the cycle of Sustaxyl 350, positive properties and beneficial effects on the athlete's body are noted. In sports practice, this steroid is valued for its therapeutic effects:
an anti-catabolic process occurs, the breakdown of muscle fibers is prevented;
the synthesis of blood cells increases, the muscles are quickly saturated with oxygen, as a result, the body's endurance to physical exertion increases;
rapid and significant increase in body weight;
appetite increases, which serves as an additional catalyst for gaining muscle mass;
the uniform activity of the steroid ensures a consistently high level of testosterone throughout the entire steroid therapy;
increases sexual desire and libido;
increased protein synthesis increases muscle volume.
Dosage and Usage
Sustaxyl 350 is a powerful steroid. It is advisable to take it for athletes to increase muscle mass and increase strength. The duration of the cycle is from 4 to 8 weeks. Sustaxyl 350 is taken by athletes in the optimal dosage of 350-700 mg per week, the dose can be divided into several doses.
More experienced athletes take up to 1000 mg per week. The correct dosage and duration of the cycle can be prescribed by a practicing trainer with experience in compiling steroid cycles. The selection of steroids requires an individual approach and control, taking into account the physical parameters of the athlete, his goals and level of professional training. For the formation of expressive muscle shape, the steroid is combined with winstrol, trenbolone.
The steroid is slowly absorbed into the blood, has a low level of aromatization. In case of individual intolerance and sensitivity of the athlete, it is recommended to take Proviron or Nolvadex in parallel.
Post-Cycle Therapy
PCT is started two weeks after the last injection. Clomid, gonadotropin are ideal for post-cycle therapy.
Possible Side Effects
Kalpa Pharmaceuticals' Sustaxyl 350 is a strong androgen that can cause unwanted side effects:
high blood pressure;
baldness or vice versa, excessive hair growth;
insomnia;
greasy skin, the appearance of acne;
water retention, swelling;
aggressiveness;
frequent headaches;
decreased sexual activity and libido;
gynecomastia.
To avoid such ailments, it is recommended to take additional drugs: proscar (finasteride), proviron. To reduce the risk of side effects, it is necessary to adhere to the recommended dosages and take antiestrogen preparations.
Sustaxyl 350 should not be taken by women. Its use can cause adverse reactions and dramatic changes in the body and appearance. The steroid promotes virilization, the symptoms of which are: coarsening of the voice, growth of the clitoris, menstrual irregularities, growth of hair on the body and face. Therefore, women athletes should pay attention to safer steroid drugs.
Sustaxyl 350 Lab Test Results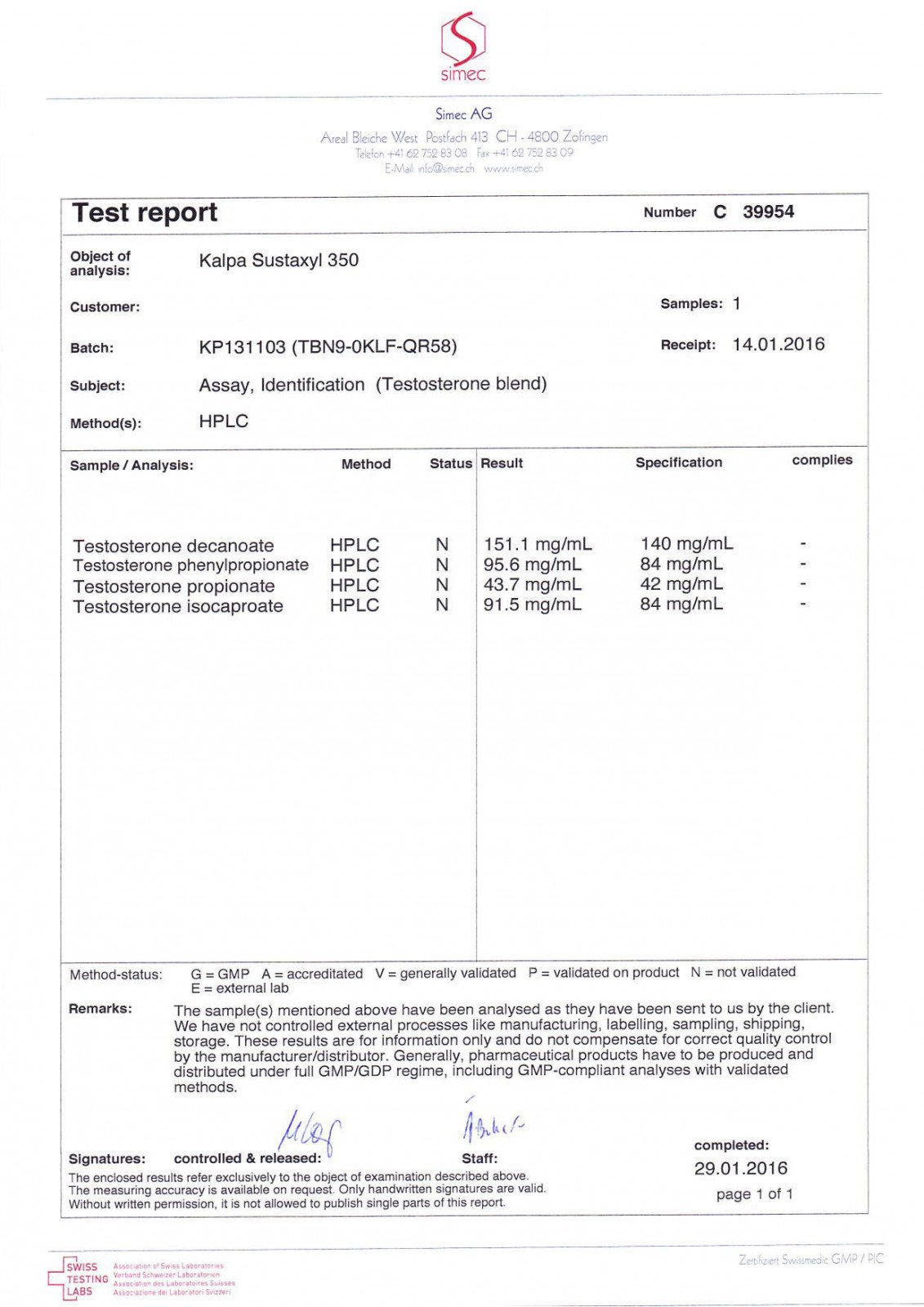 Further Reading
Sustaxyl 350 Reviews
Please log in to write Sustaxyl 350 review.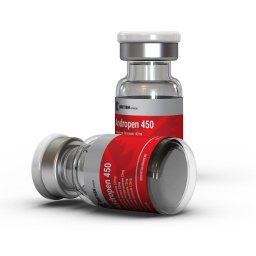 British Dragon Pharmaceuticals
Drug Class: Injectable Anabolic Androgenic Steroid
Active Ingredients:
- Testosterone Acetate 30 mg/ml
- Testosterone Propionate 73 mg/ml
- Testosterone Phenylpropionate 73 mg/ml
- Testosterone Cypionate 125 mg/ml
- Testosterone Decanoate 147 mg/ml
Dosage: 450 mg/ml
Manufacturer: British Dragon Pharmaceuticals
Routes of Administration: By Intramuscular Injection
Price per 1 Vial [10 mL per Vial]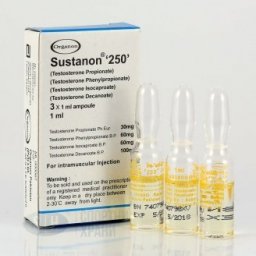 Organon Ilaclari, Turkey
Drug Class: Injectable Anabolic Androgenic Steroid
Active Ingredients:
- Testosterone Propionate 30 mg/ml
- Testosterone Phenylpropionate 60 mg/ml
- Testosterone Isocaproate 60 mg/ml
- Testosterone Decanoate 100 mg/ml
Dosage: 250 mg/mL
Manufacturer: Organon
Routes of Administration: By Intramuscular Injection
Price per 1 mL amp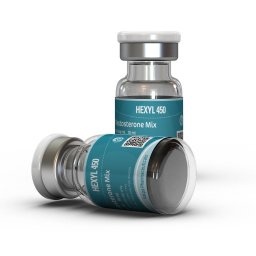 Kalpa Pharmaceuticals LTD, India
Drug Class: Injectable Anabolic Androgenic Steroid
Active Ingredients:
- Testosterone Acetate 30 mg/ml
- Testosterone Propionate 73 mg/ml
- Testosterone Phenylpropionate 73 mg/ml
- Testosterone Cypionate 125 mg/ml
- Testosterone Decanoate 147 mg/ml
Dosage: 450 mg/ml
Manufacturer: Kalpa Pharmaceuticals
Routes of Administration: By Intramuscular Injection
Price per 1 Vial [10 mL per Vial]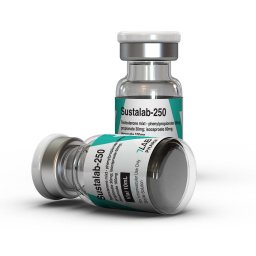 7Lab Pharma, Switzerland
Drug Class: Androgen; Anabolic Steroid
Active Ingredients:
- Testosterone Propionate 30 mg/ml
- Testosterone Phenylpropionate 60 mg/ml
- Testosterone Isocaproate 60 mg/ml
- Testosterone Decanoate 100 mg/ml
Dosage: 250 mg/mL
Manufacturer: 7Lab Pharma
Routes of Administration: By Intramuscular Injection
Price per 1 Vial [10 mL per Vial]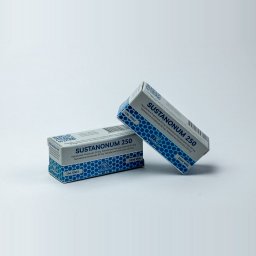 Magnum
Drug Class: Injectable Anabolic Androgenic Steroid
Active Ingredients:
- Testosterone Propionate 30 mg/ml
- Testosterone Phenylpropionate 60 mg/ml
- Testosterone Isocaproate 60 mg/ml
- Testosterone Decanoate 100 mg/ml
Dosage: 250 mg/mL
Manufacturer: Magnum Laboratories
Routes of Administration: By Intramuscular Injection
Price per 1 Vial [10 mL per Vial]