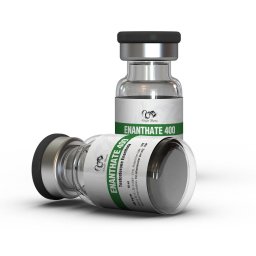 Dragon Pharma
Enantat 400
Drug Class: Androgen; Anabolic Steroid
Active Ingredient: Testosterone Enanthate
Dosage: 400 mg/mL
Manufacturer: Dragon Pharma
Routes of Administration: By Intramuscular Injection
Price per 1 Vial [10 mL per Vial]
Warning! High dosed gear, can cause pain and reaction at the injection site!`
Warm high concentration 400 mg<
before administration
in order to avoid high levels of PIP
and massage afterward.
Enantat 400 Detailed
Legit Enantat 400 Injections
Enantat 400 by Dragon Pharma is a long-acting steroid. It is highly effective and causes a rapid increase in muscle mass.
Drug Description
The anabolic formula is an ester of the male hormone. Suitable for hard training athletes who want to improve their endurance. The drug allows you to quickly restore the strength of the body, improves regeneration processes. It is based on enanthate, which has a pronounced analgesic effect. Enantat 400 is available as a yellow oily solution for injection, 1 vial (10 ml) per pack. Suitable for professionals and beginners in power sports: powerlifters, weightlifters, bodybuilders.
Admission effects:
Rapid increase in the required muscle mass without muscle loss in conjunction with Propionate;
Reducing the recovery period after training;
Improvement of the psycho-emotional state of the athlete;
Increasing the tone of the body;
Strengthening joints, ligaments and bones.
Dragon Pharma's Enantat 400 is characterized by low cushioning and does not retain water in the body. The specificity of the action of this drug allows it to be used mainly in mass-gathering courses and during the drying period.
Dosage and Usage
This steroid is used for a long course - from 6 to 8 weeks. If the body tolerates it well, then it is possible to extend the course. Injections must be done every 2-3 days. Such a frequency of drug administration is necessary to maintain an even background of influence on the body. The dosage should be 100 mg in 2–3 days. For maximum effectiveness, you can select the dosage individually, which also minimizes side effects. For women, it is important to adhere to the dosage: no more than 50 mg in 5–7 days.
Enantat 400 is rarely used alone. Athletes often combine it with other steroids to achieve the best effect. It combines well with a large number of steroids. The most popular options are: Winstrol (50 mg every day); Clenbuterol (40-120 mg per day). At the same time, the dosage of Enantat 400 remains the same - 100 mg in 2–3 days.
Possible Side Effects
Acne and pimples.
Sweating.
Gynecomastia.
Baldness.
Excessive greasiness of the skin.
Water retention.
Enantat 400 Lab Test Results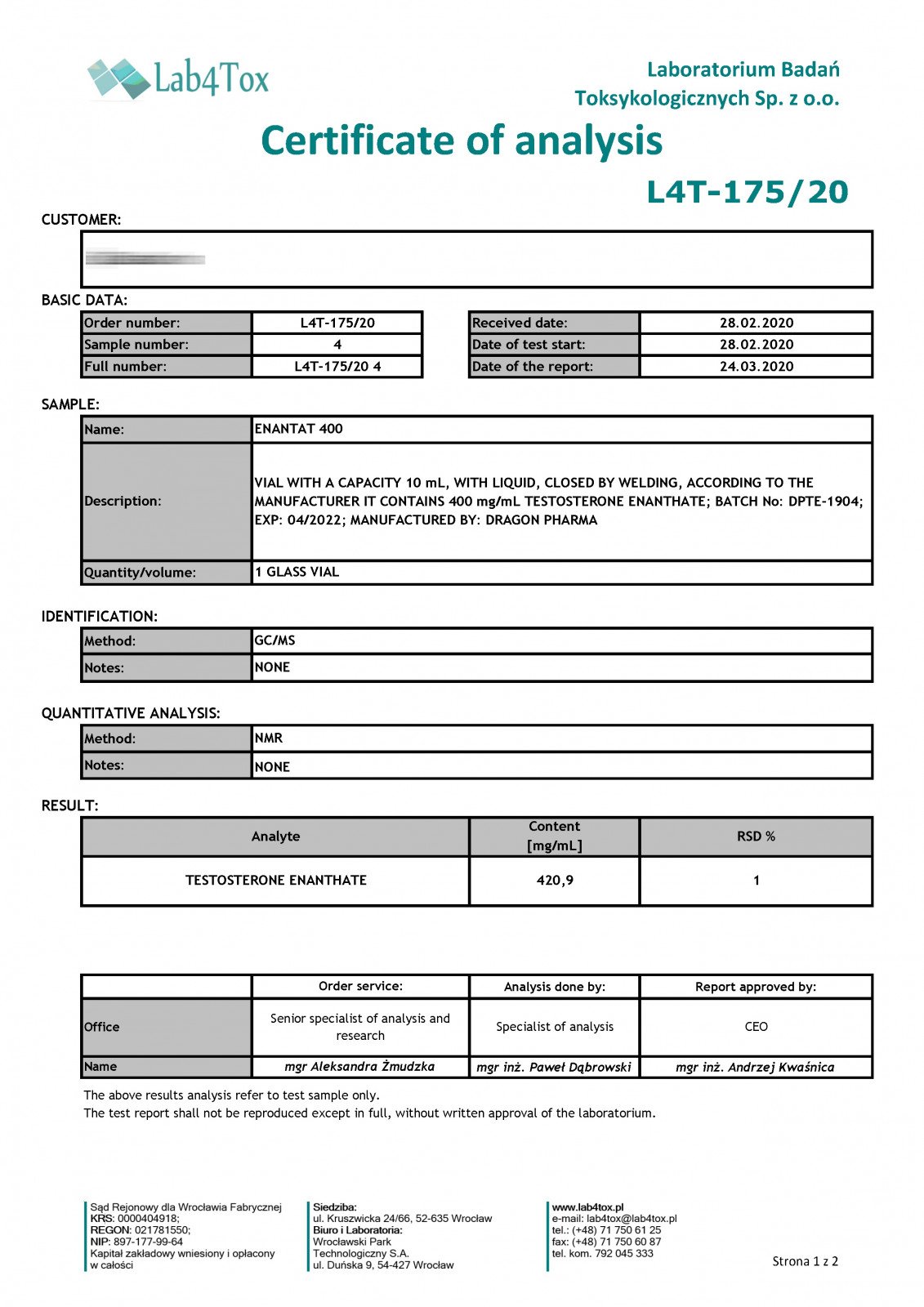 Further Reading
Please log in to write Enantat 400 review.