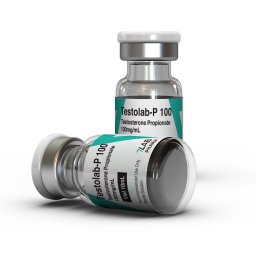 7Lab Pharma
Testolab-P 100
Drug Class: Androgen; Anabolic Steroid
Active Ingredient: Testosterone Propionate
Dosage: 100 mg/mL
Manufacturer: 7Lab Pharma
Routes of Administration: By Intramuscular Injection
Price per 1 Vial [10 mL per Vial]
Testolab-P 100 Detailed
Legit Testolab-P 100 Injections
Fast-acting testosterone ester, Testolab-P 100 for athletes who need to give better shape to growing muscle mass. In view of the fact that the effect of propionate is markedly different from that characteristic of forms of testosterone with a much longer duration of action, then the appointment is different.
If long esters are used in steroid cycles aimed at rapid muscle building, then the decision to buy Testolab-P 100 by 7Lab Pharm is made with a slightly different goal.
But with regard to the main properties, there are no differences between the various testosterone esters, they are:
Show a high tendency to aromatize. Therefore, it is necessary to take measures to lower the undesirably increased level of estrogen;
Very noticeably inhibit the activity of the hypothalamus-pituitary-testis arc;
Non-toxic to the liver;
Characterized by equally high anabolic and androgenic activity.
Drug Description
With a short duration of action, you can buy Testolab-P 100 for the first use in a small amount, since the individual characteristics of the drug's tolerability will affect quickly. If an allergic reaction occurs (which happens incredibly rarely), you will not have to regret the needless purchase of a large amount of injectable steroid. In the vast majority of cases, you can confidently expect to receive a whole range of positive effects. As a result of a steroid cycle:
grows, though not too much, muscle mass. Slow, compared with other testosterone esters, muscle growth is due to the absence of water retention inherent in them;
fat accumulations decrease;
the musculature becomes drier and stiffer, embossed;
power indicators are growing;
the level of "bad" cholesterol decreases;
the ability of the heart to resist the development of ischemia and coronary insufficiency is strengthened.
The cycle clearly shows the feature of testosterone in the form of increased libido, for which many men are ready to buy Testolab-P 100.
Dosage and Usage
The 6-week solo cycle has not been widely adopted, as far more results can be achieved by combining testosterone propionate with other anabolic androgenic steroids. Injections are performed every other day at a dosage of:
for beginners, 50 mg;
reaching 100 mg for experienced athletes and those with a large body weight.
For the cycle, you will need not only to buy Testolab-P 100, but also to use at least Proviron. Although, the suppression of an excessively elevated level of estrogen will be more effective with aromatase inhibitors. By including them in the cycle scheme, starting in the second week, the development of such unpleasant, extremely unpleasant manifestations for men, such as gynecomastia and female-type obesity, is prevented.
Buying Testolab-P 100, along with other anabolic androgenic steroids, will contribute to the achievement of a synergistic effect, which is clearly manifested when propionate is combined with:
On long cycles lasting eight weeks or more, it is imperative to take human chorionic gonadotropin.
Post-Cycle Therapy
As part of post-cycle therapy, the use of:
tamoxifen, which restores the normal production of endogenous testosterone;
cortisol blockers that prevent the manifestation of the muscle loss and allow you to save the muscle mass gained by hard work.
Possible Side Effects
Those who intend to buy Testolab-P 100 in the USA, should take into account the presence of high androgenic activity. This is especially true for women who can quickly develop manifestations of virilization.
Possible manifestation:
acne;
alopecia;
gynecomastia;
hirsutism (body hair).
Restoring the level of production of natural testosterone will have to be expected for about two to three months. You need to be prepared for this, without panicking in vain.
Further Reading
Please log in to write Testolab-P 100 review.